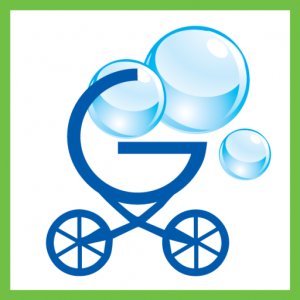 We're not for those days where you've gone for a wander in the woods and got your pushchair is just a bit grubby covered in mud (although we're very good at that sort of stuff!), we take your pushchair away for a week and give it a really good clean if you:
are busy?
have bought second-hand or selling?
have lost the instruction manual?
are concerned about which products are safe?
own a Nursery or restaurant with baby & toddler equipment?
care about our planet?
We understand all about Grubby!
As a family run business, we understand the importance of getting things right and making the most of your time. Having children can be a never ending game of cleaning up after them! Milk, crumbs, the beginnings of mould and mildew and all kinds of germs can get into all those little hiding places that kids seem to find! Unfortunately, many off-the-shelf cleaning products can cause irritations, allergies and infections.
Saving time is just one of the great reasons to use a pushchair and car seat professional cleaning service. Cleanliness with children is a battle of wills, we know! Our pushchair and car seat cleaning service is the perfect way to save time and afterwards you have the reassurance that your child will be nestled in a lovely clean and safe pushchair and car seat.
The cost of a once-used buggy on top of the Grubby Buggy fee can still save you hundreds of pounds and also know you are doing your bit for the environment so it's a good deed done! Recycling is always more eco-and purse-friendly than buying new.
And when you no longer have use for your buggy and you need to make space for other items then we can take care of the cleaning process so it's ready for sale. Items that are perfectly clean and in good working order are more likely to sell and at a better price!