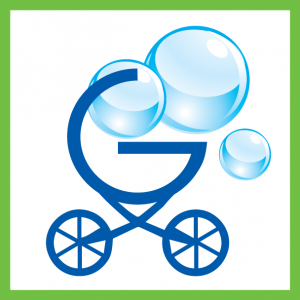 Our cleaning is tough but gentle!
Being a parent or caregiver can often feel like a juggling act and we know pushchair cleaning is another task to add to the long list….so relax we've got this!
There's no such thing as a car wash for pushchairs and you'd be hard pushed (excuse the pun) to fit one in a washing machine. They also couldn't do the level of cleaning we do at Grubby Buggy. We recommend giving us a week so we can keep going back to re-tackle stains and marks so you get really spectacular results.
Fabrics are thoroughly blasted with our in-house steam cleaner and the chassis is washed and serviced. Every little sticky fingerprint in the fabric is blasted with the steam cleaner – save those for pictures on the fridge.
We can also carry out repairs, and with our experience, if it can be fixed, we can fix it. If there are replacement parts required and available to buy we can do so and fit them*. Some are unfortunately beyond repair, but if you're unsure just ask us. us.
Cleaning programme
With our 15-step cleaning programme, we take everything apart, give it a fresh makeover, work on any minor repairs and put it all back together again. At Grubby Buggy, we work with all makes and models so we're experienced in what we do, so you're ready to roll!
Full Valet & Service – we put loads of love and care into working on your items.
The Clean…
All fabrics are removed from chassis and soaked in our favourite child-friendly cleaning solution
We get working on those stains and spot removal.
Materials are gently laundered
Now the science…Our industrial steam cleaner is used to naturally degrease and sanitise fabrics. Hot vapour molecules, in excess of 140 degrees, penetrate the pores of the fabric surface and force all dirt, debris, and bacteria to the surface, killing germs like E. Coli and Salmonella. Steam cleaning also kills 100% of dust mites, proven to greatly reduce allergies
Intense suction draws moisture and dirt back into the cleaner. This process is completely chemical-free and kind to the environment
Minor sewing repairs are carried out and all fabrics are reassembled back onto the chassis so it looks good as new!
Extra Care – If there are any signs of mould on the equipment we use a natural mould killer and treat the item(s) overnight to ensure all the mould is eliminated so it not only appears clean but it's safe and hygienic too – this extra care requires an additional cost to be charged.
The service…
All pushchair mechanisms are checked for working order and safety
Chassis and wheels are jet-washed and scrubbed down
Tyres are checked for correct pressure and inflated if necessary, punctures are repaired and inner tubes are replaced if needed*
Axles that can be accessed are lubricated
Brakes are checked and adjusted where required
Replacement parts are ordered and replaced*
Any moving parts of the pushchair that feel a bit stuck are lubricated
Tyre restorer is used on wheels and the chassis is polished with a protective coating
Sparkling clean and germ-free equipment ready to go!
* Any replacement parts (inc inner tubes) are at an additional cost.  All labour for replacing parts is included in the price.